Over the past few decades, the healthcare industry has undergone a remarkable transformation. Healthcare organizations now place significant emphasis on delivering safe and effective care. As more and more processes are being reengineered for efficiency and outcomes, it has become imperative to adopt new methods of managing data and interpreting it correctly.

Healthcare organizations that use outdated systems are bound to face a range of problems that can affect operational efficiency, financial performance, patient experience and compliance. To navigate these problems, an integrated system for claims management is necessary.
5 Benefits of Integrating Claims Management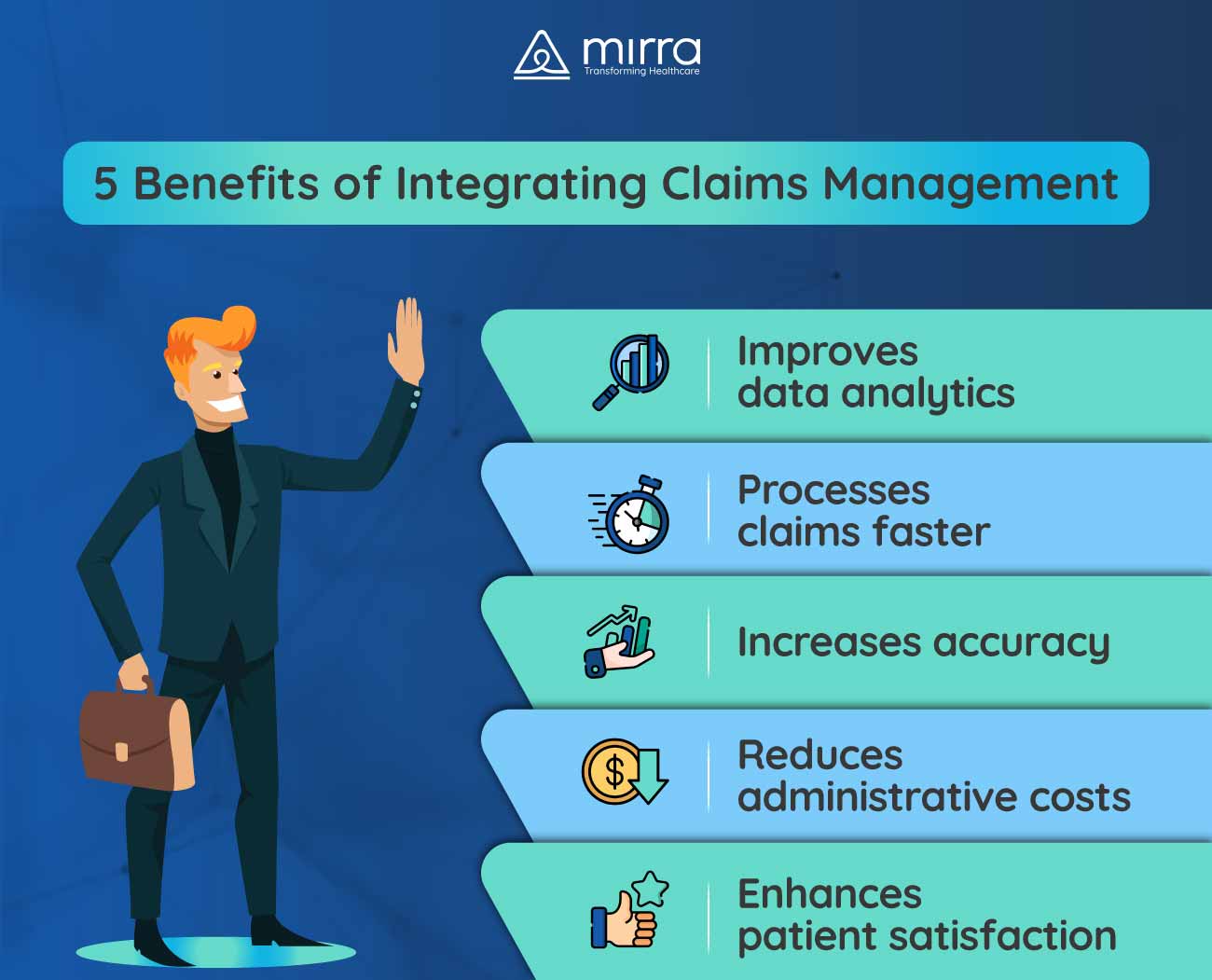 Integrating healthcare claims management can have significant benefits for healthcare organizations, insurance providers, and patients. Here are a few:
Increased Accuracy
With an integrated system for claims management, healthcare providers only need to enter patient data and billing information once, thereby reducing the number of errors caused by manual data entry. It can also help providers check a patient's eligibility and coverage in real-time so that claims are submitted for the correct amount and to the appropriate insurer. Additionally, integrated healthcare claims management systems can help automate coding and billing processes to reduce errors and inaccuracies in the billing process. This in turn could help providers receive their explanation of payments (EOP) much faster.
Faster Payments
Automated payment posting can help ensure that providers receive their payments promptly. It can also help improve communication with payers, which can speed up the claims process. Additionally, by automating the submission and processing of claims, providers can free up staff time to focus on resolving payment issues and communicating directly with payers.
Improved Data Analytics
An integrated system can help consolidate data from different sources into a single database. This can provide a more comprehensive view of patient data and enable better data analysis. It also standardizes data across the entire organization, which allows for easier analysis and comparison of data across different departments or locations. Moreover, in an integrated system, data can be accessed in real time, which allows for faster reporting. This can help healthcare providers make more informed decisions and respond to trends more quickly.
Reduced Administrative Costs
By automating many of the processes involved in claims management, such as data entry, eligibility verification and payment posting, healthcare organizations can reduce administrative costs associated with managing claims. Fewer errors and rejections in the claims process can lower the number of resubmitted claims, which in turn can save a lot of time and money.
Enhanced Patient Satisfaction
Streamlining the claims processing workflow can help decrease the time it takes to process claims, which can lead to faster reimbursements. An integrated system can also help improve the accuracy of claims processing, thereby lowering the number of errors or rejected claims. This can reduce the frustration and inconvenience that patients experience when they must resubmit claims.

Therefore, integrating healthcare claims management can not only help improve efficiency but can also decrease the time and amount of resources it takes to process claims. It can help healthcare organizations improve their bottom line and provide better patient care by automating many of the processes involved in claims management.
Read more: 7 Benefits of Outsourcing your Medical Claims Management
How Can Mirra Healthcare's Claims Management Service Benefit Your Medical Practice?
Mirra healthcare's claims adjudication service can help your medical practice in several ways. Here are a few:
It can save your medical practice a lot of time by providing a single platform for medical, institutional, dental and capitation claims.
It integrates all EDI (electronic data interchange) claims and automates the exchange of data between healthcare providers and insurance payers to help process claims faster.
It provides an easy-to-use dashboard which shows the breakup of claims into professional, institutional and dental buckets.
It allows providers to view details for claims, prior authorization, service, pricing and more.
It provides SSRS and Power BI reports to help physicians with data analysis and reporting to improve operational and financial performance.
It generates letters for explanation of benefits, integrated denial notice, overpayment and more.
Visit Mirra healthcare's website to request a demo of this service to learn more on how it can help your medical practice save time and money through its various features. For more information on Mirra's Medicare in a Box solution, reach out to us: https://mirrahealthcare.com/contact-us