Effective customer service management is crucial for any business, including health care companies. It involves providing support and service to customers by handling their inquiries and resolving any issues efficiently. The US Health Insurers Customer Experience Index (2018) found that providing satisfactory customer service is a significant factor in achieving effective member engagement and beneficiary retention within health plans1. A beneficiary's emotional response regarding their interactions with health plan representatives while conducting routine transactions can significantly impact their customer service satisfaction.  
However, managing customer service operations can be challenging and time-consuming, especially for life insurance companies and health plans with a large customer base. Therefore, they may choose to outsource customer service management to third-party administrators in order to improve their efficiency. In this blog post, we will explore the benefits of outsourcing customer service management for health plans and how it can improve business and reputation in the long run.  
The blog post provides a clear explanation of why health plans choose to outsource customer service management to third-party administrators (TPAs). It highlights the benefits of outsourcing and emphasizes the value that TPAs bring to health plans in terms of expertise, resources, and cost savings. 
Why Health Plans Outsource Customer Service Management to Third-Party Administrators
Third-party administrators (TPA) are companies that provide services to other organizations, typically in the areas of benefits administration, claims processing, utilization management, etc. They can efficiently resolve complex customer service issues that health plans may not be equipped to handle in-house. By outsourcing customer service management, health plans can benefit from the expertise, technology, and resources of a specialized service provider, without having to invest in infrastructure and staff. TPAs can help health plans enhance their overall service offerings and maintain a loyal customer base, which is essential for their long-term growth and success.  
Read more: Customer Service: The Single Biggest Shift in Healthcare By Dr. Singh 
Benefits of Outsourcing Customer Service Management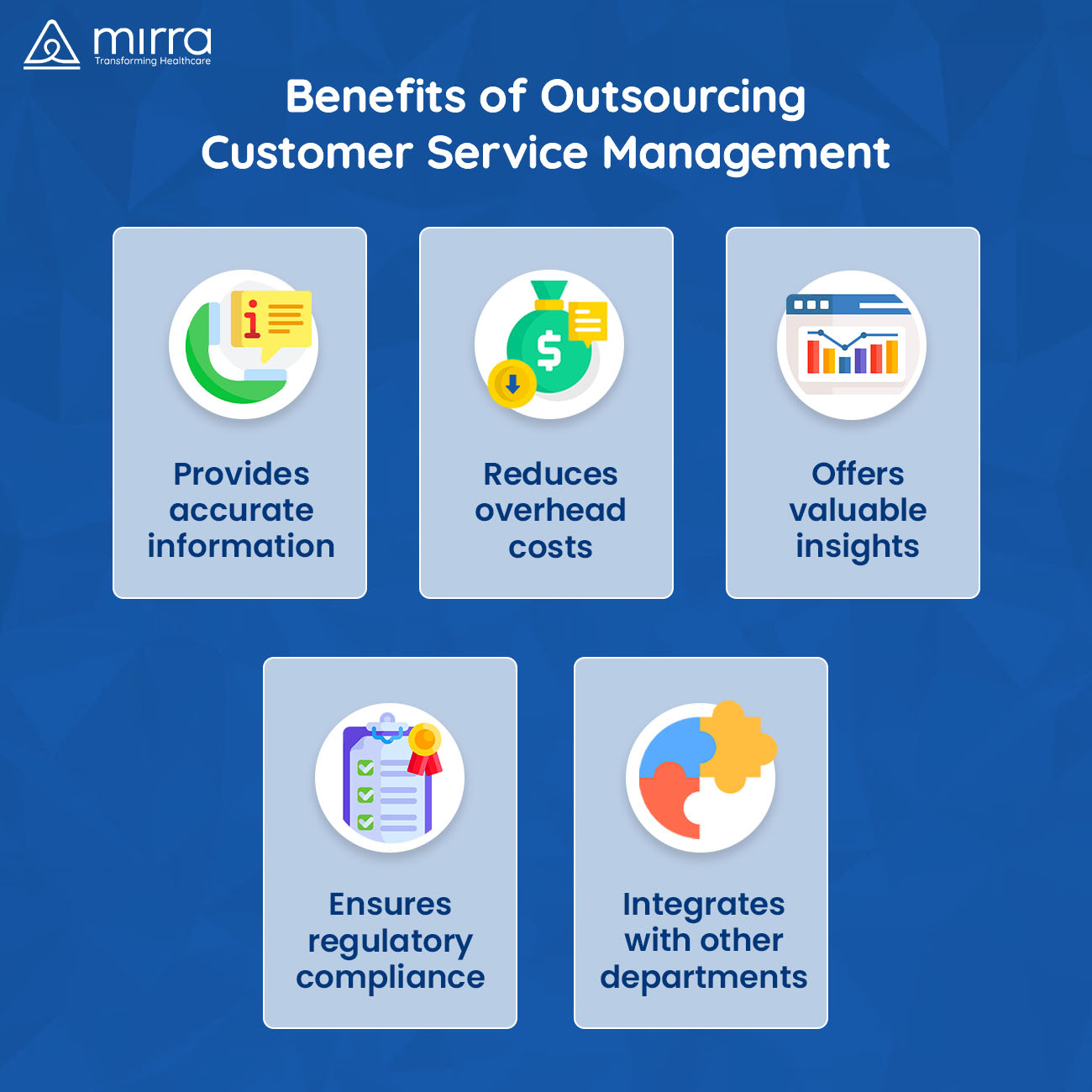 There are several benefits of outsourcing customer service management to third-party administrators, such as: 
Improves Accuracy
TPAs have access to experienced customer service representatives (CSR) who are trained to handle complex inquiries and resolve issues quickly and efficiently. These representatives are typically well-versed in health plan policies, procedures, and regulations, which helps them provide accurate information to customers. 
Reduces Cost
TPAs can help health plans reduce costs associated with maintaining an in-house customer service team. They can also help reduce staffing requirements and associated overhead costs for training and infrastructure. 
Offers Insights
They can provide valuable insights and analytics with real-time customer feedback, which can help health plans identify and address service gaps, improve processes, and enhance their overall customer experience.  
Ensures Compliance
They can ensure that health plans comply with regulatory requirements by assisting them in maintaining accurate records, reporting, and other compliance-related tasks, which can reduce the risk of incurring regulatory fines or other penalties. 
Easy Integration
They can facilitate the integration of customer service management with other departments within the health plan, such as claims processing, provider relations, and marketing, to ensure that members receive well-coordinated and effective service.  
In conclusion, TPAs equip health plans with valuable tools and functionalities to help streamline their processes, enhance member satisfaction and elevate their brand reputation. 
According to studies, 87% of beneficiaries that feel valued and appreciated by customer service will go on to advocate that specific brand of health plan, and 74% will continue their membership with it. Therefore, it is important for health plans to make a concerted effort towards improving the quality of their customer service management operations or outsource it to a trusted, reputable TPA.  
Why Mirra's Customer Service Management Solutions is Preferred by Health Plans
Mirra Healthcare is a comprehensive third-party administrator that offers health plans a holistic solution for managing service-related processes for all stakeholders, including customers, applicants, providers, agents, and prospects. Their solution provides a single system that ensures efficient and timely assistance for all stakeholders within the health plan. 
Mirra's customer service management solution offers health plans a web-based user interface that allows CSRs to view a member's claim details. This includes information such as service and payment details, claims history, provider information, MOOP history, activity logger and more. Having access to this detailed information, CSRs can promptly respond to queries and provide authorized representatives or members with the necessary information. 
Moreover, it enables CSRs to access vital provider information, including the list of associated members, as well as claims and pre-authorization details. This helps them swiftly locate relevant data and provide accurate responses to members' inquiries about providers. They also help resolve billing and payment issues by identifying the source of the problem and facilitating prompt payment resolution. 
Furthermore, Mirra's platform easily integrates with a telephonic system to capture the caller's details and verify them before sharing any information about a member, thereby ensuring compliance with HIPAA (Health Insurance Portability Act) regulations. 
In addition to the mentioned advantages, Mirra's customer service management solution provides several other benefits: 
Captures event details and routes the event to other departments

 

Views application details, fulfillment and tasks for an applicant

 

Tracks the status of each event through color coding thereby preventing the breach of service level agreements (SLA)

 

Provides CMS reports on a scheduled frequency

 

Helps users generate real time reports

 

Records RSVP data for webinars

 
Visit Mirra Healthcare's website to learn more about its Medicare in a Box solution, which offers a range of services tailored to meet the unique requirements of health plans. The tools offered by their customer service management can help your business secure long-term membership, improve overall customer satisfaction and find a foothold in an otherwise competitive marketplace.  Contact us for more information