Did you know that administrative tasks consume an astounding 25% of a healthcare professional's day? That's a significant amount of time and other resources getting diverted from patient care and critical tasks in healthcare management.
In the fast-paced healthcare landscape, where time is of the essence, there's a big challenge: how to provide top-notch patient care without getting bogged down by paperwork and repetitive administrative tasks? The answer lies in BPaaS. 
BPaaS, or Business Process as a Service, enables streamlined healthcare operations, cost reduction, and a host of other benefits. It's a critical tool that enables you to navigate the complexities of modern healthcare processes and its products and services.
This blog post will explore the ins and outs of BPaaS and how it's reshaping the healthcare industry. Read on to understand why healthcare professionals are turning to BPaaS to optimize their time, reduce costs, and enhance patient care. Let's get started.
The Evolution of BPaaS in Healthcare
Healthcare organizations traditionally have had to deal with complex administrative processes. These processes were filled with extensive paperwork and required manual creation of patient records with extensive detailing.
Creating accurate and timely patient records for speedy insurance claims processing with simplified and accurate financial transactions posed significant challenges in healthcare management. This not only slowed down processes but also led to errors, resulting in delayed treatment and financial disputes.
Billing errors were rampant, resulting in possible financial losses for both providers and payers. Due to the confusion in paperwork, patients can face delays and confusion in accessing their healthcare benefits. Compliance with the ever-evolving healthcare regulations was a constant headache, leading to risks of legal complications for both patients and the hospitals.
BPaaS: Reinventing Healthcare Operations
BPaaS changed this by shifting administrative healthcare processes to the cloud through BPaaS products and services. This transition has simplified operations, cut overhead costs, and practically eradicated errors associated with manual data handling. The top 5 usability features of BPaaS are:
User-Friendly Interface
Cloud Accessibility
Real-time Updates
Secure Automation
Tailored Customization
BPaaS brought an unprecedented level of efficiency to healthcare organizations. Tasks that took days or weeks are now completed in mere hours. Data accuracy improved significantly, leading to better patient care and subsequent higher satisfaction scores.
Mirra Health Care's suite of BPaaS solutions has simplified complex processes with its cloud-based solutions, allowing healthcare providers to focus on what truly matters: delivering exceptional care to their patients.
Read more about A Flourishing Collaboration: Ultimate Health Plans and Mirra Health Care Enhancing Medicare Advantage Operations.
Advantages of BPaaS in Healthcare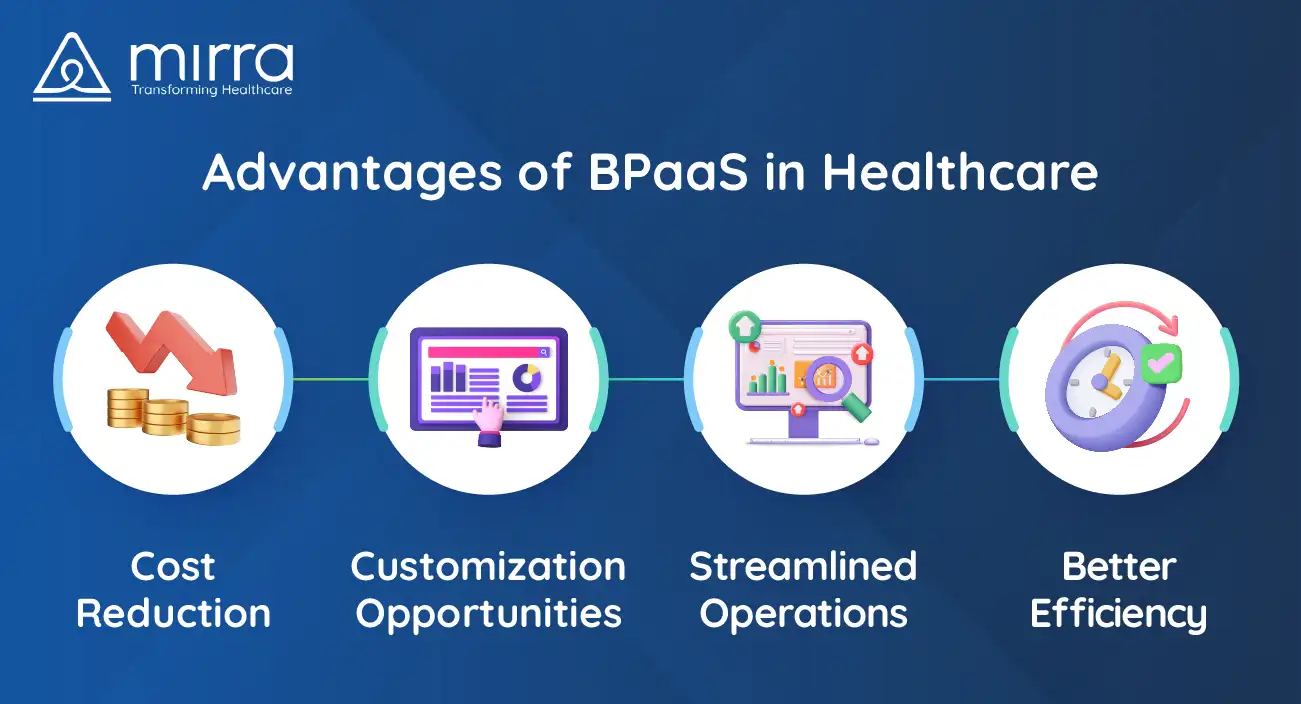 Cost Reduction with Mirra's BPaaS
Operational costs are a constant worry in healthcare management. Administrative duties, such as claim processing and patient record management, are both resource-intensive and error-prone. These tasks eat into budgets, leaving fewer resources for patient care.
Mirra Health Care's products and services automate these processes, reducing the need for extensive staff and minimizing costly errors.
Customization through Mirra's BPaaS
Our BPaaS solutions are customizable as per your organization's needs, whether it's meeting new compliance standards, configuring billing, or integrating with existing systems because there's no "one-size-fits-all" approach in healthcare. This flexibility empowers you to optimize workflows without disrupting efficiency.
Boosting Efficiency with Mirra's BPaaS
Time-saving means better care. Mirra Health Care's BPaaS solutions streamline workflows, ensuring swift and accurate task completion, leading to improved care.
Consider claims processing. Traditionally, it was slow and paperwork-heavy. BPaaS has changed this game. It automates claims validation, cutting processing time from days to hours. This boosts efficiency and patient satisfaction by letting healthcare providers focus on patients, not paperwork.
Role of BPaaS in Transforming Healthcare Operations
The following are the key BPaaS solutions offered by Mirra, a leading Florida based third party administrator:
Streamlined Eligibility, Enrollment, and Member Management
Managing the eligibility, enrollment, and ongoing care of Medicare beneficiaries is a significant challenge in healthcare administration. Mirra's 'Medicare Advantage In a Box' solution provides end-to-end capabilities to efficiently streamline these processes. This ensures that members have seamless access to healthcare services while reducing administrative burdens for healthcare organizations.
Effortless Premium Billing
Mirra's Member Billing module simplifies invoicing and payments by automating the generation of member invoices and the posting of related payments. This not only reduces manual errors but also ensures that healthcare organizations receive timely payments.
Smoother Claims Adjudication
Mirra's robust claims adjudication solution streamlines claim processing by translating paper claims into digital records, handling electronic claims, and maintaining comprehensive records, all within a single, efficient payment reimbursement system. This accelerates claims processing, reduces errors, and enhances cost savings and provider relations.
Efficient Encounter Data Processing
Mirra's Encounter Data Processing System (EDPS) ensures the seamless receipt, processing, and transmission of complete and compliant 837 data to CMS (Centers for Medicare & Medicaid Services). This ensures data accuracy and compliance, reducing the risk of audits and financial penalties.
Customizable Utilization Management
Mirra's Utilization Management solution provides a flexible and advanced approach to managing utilization and prior authorization. It allows healthcare organizations to align utilization policies with clinical guidelines, optimizing resource use and ensuring accurate, quality care.
Empowering Providers with a Comprehensive Portal
Mirra's Provider Portal solution provides powerful tools for healthcare organizations' administrative needs. It improves communication, simplifies data sharing, and fosters a collaborative healthcare ecosystem where everyone works together.
Holistic Customer Service Management
Mirra's Customer Service Management solution provides health plans with a holistic platform to manage all service-related processes efficiently. This includes addressing member inquiries, resolving issues, and ensuring a positive member experience in a single, easy-to-access interface.
Efficient Appeals, Grievances, and Complaint Tracking
Mirra's dedicated module enables healthcare organizations to create and manage all types of Medicare appeals and grievances seamlessly in a single solution, including Part B drugs, Part C, Part D, and a CTM (Complaint Tracking Module).
Unified Member and Provider Information
Mirra's Member House and Provider Villa solution is a comprehensive repository for member and provider-related data. This ensures data consistency, accuracy, and accessibility, facilitating smooth and error-free operations.
Read more: The 5 Principles Of Care Management | Mirra HC
Success Stories
Case Study 1
Liberty Medicare Advantage partnered with Mirra Health Care for Third Party Administrator services, aiming to streamline their Medicare Advantage Plan administration.
Results:
Successful integration of systems and processes.
Rapid and accurate data transition by Mirra.
Efficient and compliant Medicare Advantage operations.
Read more: Liberty Medicare Advantage and Mirra Health Care: A Fruitful Alliance in Streamlining Medicare Advantage Plan Administration
Case Study 2
A Florida-based Medicare Advantage Health Plan (MAHP) with 8,000+ members faced low risk adjustment scores, affecting revenue. They turned to Mirra for solutions.
Results:
Risk adjustment scores increased by 22%
HCCs submitted rose by 75%
Monthly CMS payments surged by 58%
MAHP recovered millions in CMS payments, ensuring financial stability.
Read more: Florida based health plan improves risk adjustment score and recaptures lost revenue
Case Study 3
Ultimate Health Plans (UHP), a Florida-based Medicare Advantage Plan provider, sought a comprehensive software solution from Mirra Health Care to support multiple aspects of their operations, adhering to strict Medicare and Florida Medicaid regulations.
Results:
Development and implementation of a software solution that streamlined UHP's Medicare Advantage operations.
Mirra continues to support UHP by swiftly and effectively updating their systems with new Medicare and Florida Medicaid rates and guidelines.
Read more: A Flourishing Collaboration: Ultimate Health Plans and Mirra Health Care Enhancing Medicare Advantage Operations
The Bottom Line
By enabling healthcare organizations to streamline their operations, BPaaS empowers them to focus on their core competencies: delivering quality care and improving patient outcomes.
Ready to explore the transformative potential of BPaaS for your healthcare organization? Rely on our Medicare Advantage in a Box solution for all your BPaaS needs. Reach out to us at Mirra Health Care to understand how we can transform your business.