A Third-Party Administrator (TPA) is an agency or company that provides administrative services related to healthcare benefits on behalf of insurance companies, employers, or other organizations. They act as an intermediary between the insurance company or employer and the healthcare providers and patients.
One of the primary functions of a TPA is to process and manage claims for insurance companies. This includes reviewing claims for accuracy and eligibility, paying claims promptly, and handling any appeals or disputes that may arise. By utilizing Third-Party Administrator for claims processing, organizations can reduce their administrative workload and ensure that claims are processed accurately and efficiently.
TPAs also provide support in network management. They work with healthcare provider networks to negotiate contracts and rates, monitor provider performance, and help organizations ensure that their employees or members have access to high-quality healthcare providers. Additionally, they offer consulting services to help organizations design and manage their self-insured plans effectively. This can include analyzing claims data to identify cost savings opportunities, providing guidance on plan design and compliance, and helping organizations navigate the complex regulatory landscape of the healthcare industry.
TPAs and insurance companies both play an important role in managing healthcare benefits by offering services, plan options and more. But despite their similarities, there are some important key differences that distinguish the two.
What Does a TPA do?
Medicare Advantage Health Plans offer additional benefits like dental, vision, and hearing coverage that traditional Medicare doesn't cover. Private insurance companies offer these plans, but TPAs play a crucial role in managing them.
TPAs work with Medicare Advantage Health Plans to process claims, manage benefits, and ensure compliance with federal regulations. They provide important services such as verifying eligibility, processing claims, and communicating with patients.
TPAs also help to manage costs by identifying potential fraud, coordinating care for high-risk members, and negotiating contracts with healthcare providers. Working with a TPA allows for customizing plan design and benefits to meet the unique needs of members.
Moreover, TPAs monitor key performance metrics to improve the quality of care and provide recommendations for improvement. They also assist with member outreach and engagement to educate beneficiaries about their benefits and improve their health outcomes.
Overall, TPAs are vital to the administration of Medicare Advantage Health Plans, providing essential services to manage claims, costs, and compliance. Choosing to work with a TPA can help ensure high-quality, cost-effective care for plan members.
TPAs are subject to federal regulations, such as ERISA (Employee Retirement Income Security Act) and HIPAA (Health Insurance Portability and Accountability Act).
Outsourcing the management of healthcare benefits to a third-party administrator can help organizations to delegate crucial tasks to a specialized company. Read on to know more about the key benefits that TPAs offer.
Benefits of Outsourcing to a TPA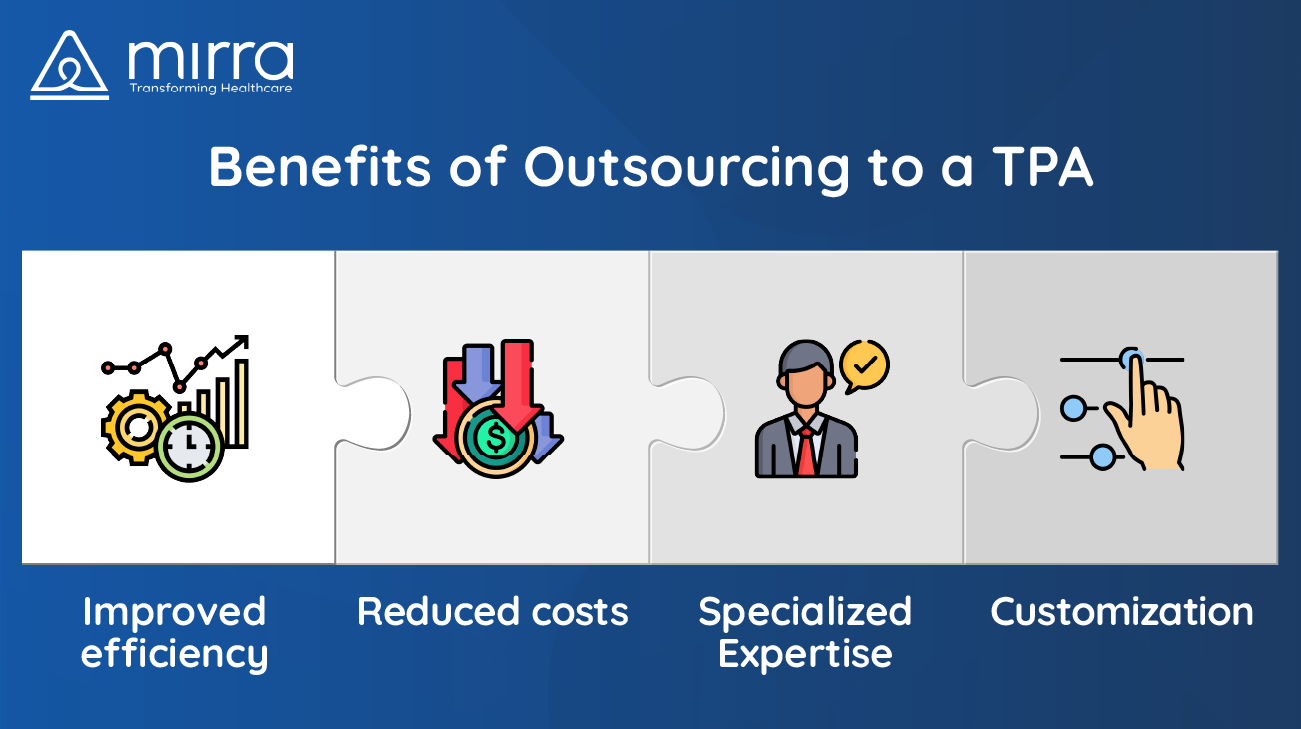 Partnering with a trusted TPA for healthcare can have several benefits, including:&
Improved Efficiency
TPAs can streamline administrative tasks such as claims processing, eligibility verification, and member enrollment. This can reduce the administrative burden on employers and insurers and free up resources to focus on core business activities.
Reduced Healthcare Costs
TPAs can help reduce healthcare costs for employers and insurers by negotiating rates with healthcare providers, reviewing medical bills, and implementing cost-containment strategies.
Specialized Expertise
TPAs specialize in healthcare administration and have extensive knowledge of healthcare laws and regulations. They can help ensure compliance with these laws and regulations, reduce errors and omissions, and mitigate risks.
Customization
TPAs can tailor healthcare benefits to meet the unique needs of each employer or insurer. This can help ensure that healthcare benefits align with the employer's overall business strategy and goals.
Outsourcing administrative tasks to a third-party administrator can be a smart decision for organizations that want to streamline their functions and save on time and resources. However, it's important to choose a reputable and reliable TPA that has a proven track record of success.
Read more: 7 Benefits of Outsourcing your Medical Claims Management
Why Choose Mirra Healthcare as Your Third-Party Administrator?
Mirra Healthcare is deeply committed to providing high quality, low cost, easy to use, technology driven products and services for Medicare Advantage Health Plans, providers and patients. Their services can enable the following:
Automate creation and fulfillment of all member correspondence including ANOC, letters, Welcome Kit, ID Card, HRA and more

Auto-update invoices for all retroactivity related to CMS enrollment each day

Provide a single platform to process medical, institutional, dental and capitation claims

Create RAPS files from encounter data submitted to EDPS

Provide a real-time global view of authorization and outstanding requests from multiple sources

Enable providers to search and view claim details submitted for their TIN/NPI, including EOP's from the claim adjudication system

Handle separate workflows for applicants, members, members representatives, providers, agents and prospects

Include all required CMS Reports including Part C, Part D and Universe Reports

Process claims through accurate member information updated through integration with the enrollment system

Solve routine needs in real time by getting accurate information from dependent systems
Visit Mirra Healthcare's website to learn more about Medicare in a Box, their range of innovative solutions that can help your medical practice save big on time, money and resources. For more information, contact us.