Utilization Management (UM) in healthcare refers to the process of evaluating and managing the appropriate use of medical services using evidence-based criteria. Its primary purpose is to ensure that patients receive the right care, at the right time, in the correct level of care setting. It also helps to identify and address variations in practice patterns and finds areas for improvement.

Utilization management was first introduced in the 1970s but it only gained momentum a decade later when healthcare costs began to rise exponentially. The implementation of utilization management helped control healthcare costs and led to changes in the reimbursement model for providers. Earlier, physicians were often reimbursed based on the volume of services provided, regardless of their medical necessity, effectiveness, and impact to quality Eliminating this fee-for-service model helped reduce the overutilization of services and decreased healthcare costs.

Utilization management is typically carried out by healthcare organizations, insurance companies, or government agencies.
Different Types of Utilization Management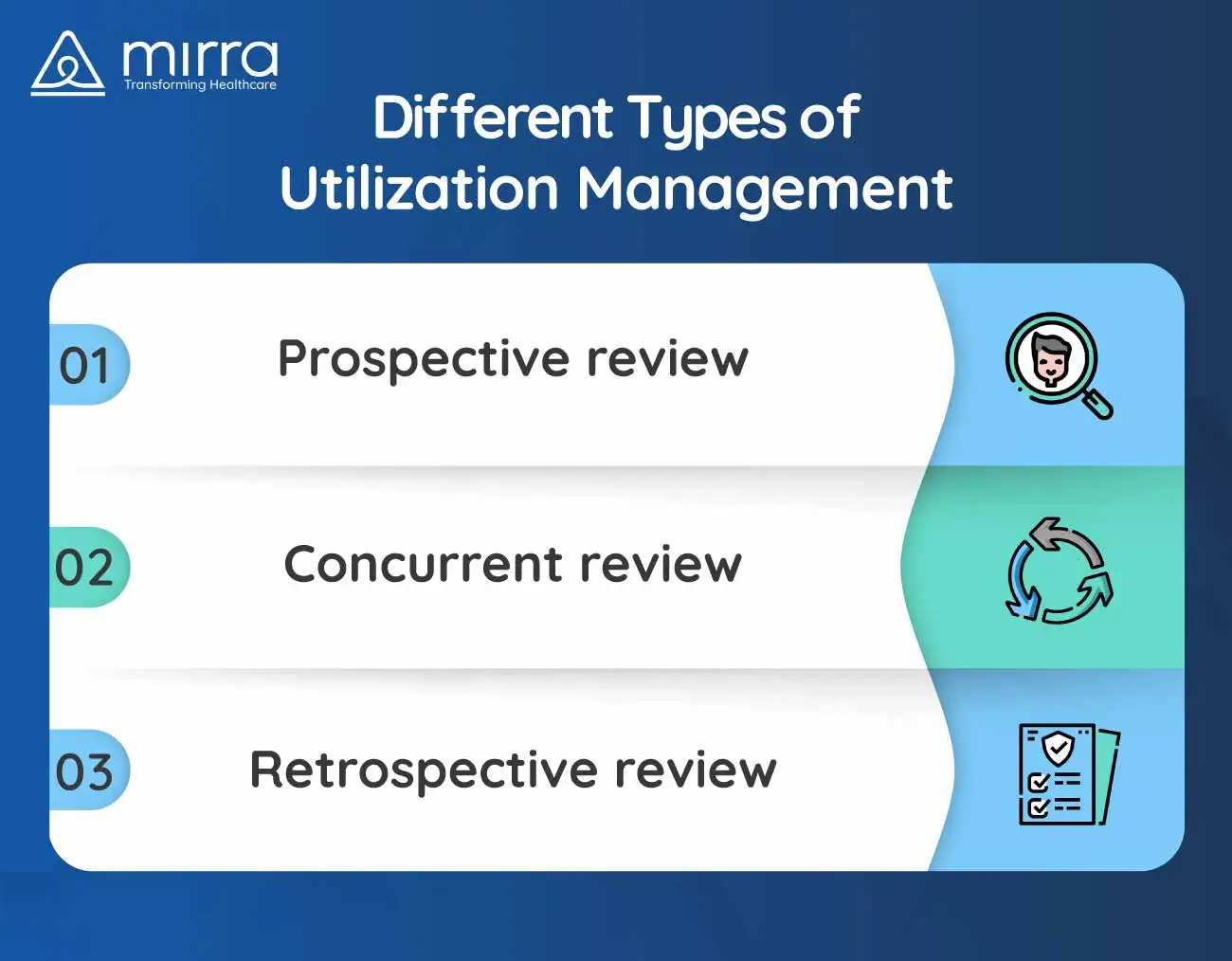 1. Prospective review
This involves reviewing preservice requests for medical services or procedures to determine if they are medically necessary for the patient's condition and to ensure that it is covered by their insurance plan.
2. Concurrent review
This involves reviewing the ongoing care of patients who are receiving inpatient hospital treatment or continued services. Concurrent review ensures the patient is receiving the appropriate necessary care.
3. Retrospective review
This involves evaluations of treatments to minimize the occurrence of treatment denials. The purpose of retrospective review is to confirm that the care was medically necessary and provided at the most efficient and effective level of care. Therefore, utilization management helps healthcare organizations strike a balance between cost control and deliver high-quality care that is tailored to each patient's needs. But how does it benefit payors, healthcare providers and patients? Read on to find out.
Benefits of Utilization Management
Utilization management can benefit payors, providers and patients in the following ways:
Payors
It can help reduce administrative costs.
It can help save money on medical claims and premiums by ensuring only necessary and medically appropriate treatments are provided.
It can help detect potential fraud and abuse by monitoring patterns of healthcare service utilization and identifying discrepancies or anomalies.
It can combine data from all utilization management programs to derive a comprehensive understanding of patient populations.
Providers
It helps providers streamline their operations and improve efficiency by reducing the amount of time and resources needed for unnecessary or ineffective treatment.
It helps increase revenue by identifying missed billing opportunities and reducing denied claims.
It maintains documentation of patient care and provides treatment protocol to improve care coordination.
It identifies patients who are at risk of hospital readmission and helps provide appropriate follow-up care to prevent readmissions.
Patients
It reduces unnecessary healthcare services and lowers out-of-pocket expenses, such as copayments and deductibles.
It helps patients to access healthcare services that might not be covered under their plan by identifying alternative, cost-effective options.
It provides programs to educate and support patients to help them understand their healthcare options and make informed decisions about their treatment.
Therefore, the implementation of utilization management processes can contribute to cost control and result in better healthcare outcomes for patients. Additionally, it can help healthcare organizations to allocate their resources and facilities more effectively to prioritize patients that need it the most.
Read More: Best Practices For A Successful Utilization Management Strategy
How Can Mirra Healthcare's Utilization Management Services Help Your Medical Practice?
Mirra Healthcare recognizes that members and providers require a solution that streamlines processes and integrates smoothly with their existing systems. To meet this need, it has developed a customizable utilization system that is designed to seamlessly integrate with existing systems while also delivering additional benefits. Some of these benefits include:
A comprehensive platform with three levels of evidence-based assessment for disease management
Access to products like Calypso Smart Assign which enables process intake, nurse review and MD review in less than an hour
Identification of patients who need medical services at the health plan level
Easy integration with existing managed care systems to get authorization requests processed on time
Real-time updates and notifications and reduced turnaround time for providers
User-friendly interface for applications in consumer-friendly language capability
Visit Mirra Healthcare's website to request a demo of this service to learn how it can help provide flexible architecture to meet your specific requirements. For more information on Mirra's Medicare in a Box solution, reach out to us: https://mirrahealthcare.com/contact-us