Our healthcare needs become increasingly complex as we age, requiring specialized care and attention. Healthcare providers must prioritize high-quality senior healthcare backed by industry standards and best practices.
One such standard is the National Committee for Quality Assurance (NCQA) Accreditation, which evaluates healthcare organizations based on rigorous quality measures and evidence-based practices. By achieving NCQA Accreditation, healthcare providers can ensure they deliver the highest level of care to their senior patients.
In this blog post, we'll explore the benefits of NCQA Accreditation for senior healthcare, including improved health outcomes, commitment to high-quality healthcare, and evidence-based best practices. We'll also discuss how healthcare providers can integrate NCQA Standards into their practice and help address compliance gaps to improve their overall quality of care.
Understanding NCQA Standards
NCQA Standards are quality measures that healthcare providers and health plans must meet to achieve NCQA Accreditation. These standards cover a wide range of areas, from patient experience to clinical quality, and are designed to ensure that patients receive high-quality, evidence-based care. It's also noteworthy that TPA Medical providers and health plans striving to achieve NCQA Accreditation must meet NCQA Standards.  
The NCQA Standards are organized into categories, each covering a specific area of healthcare quality. These categories include:   
Access and Availability of Care: Focuses on ensuring patients have access to timely and appropriate care, regardless of location or health status.  
Patient-Centered Care: Emphasizes the importance of patient engagement and shared decision-making in healthcare.  
Care Coordination and Integration: Addresses the need for seamless transitions between different healthcare providers and settings and the importance of information exchange and communication.  
Population Health Management: Focuses on improving the health of entire patient populations, not just individual patients.  
Performance Measurement and Quality Improvement: Emphasizes the importance of collecting and analyzing data to continuously improve healthcare quality. 
The Impact of NCQA Standards for Seniors 
For seniors, NCQA Standards are especially important. Seniors often have multiple chronic conditions and complex healthcare needs, which makes receiving the care they need difficult. NCQA Standards help ensure that seniors receive high-quality, coordinated care tailored to their needs.  
Example of Complex Case Management (CCM)  
One example of how NCQA Standards can improve care for seniors is using Complex Case Management (CCM). CCM is a comprehensive, patient-centered approach to care coordination focusing on patients with complex medical, social, and behavioral needs. By using CCM, healthcare providers can better identify and address the needs of seniors with multiple chronic conditions, reducing hospital readmissions and improving overall health outcomes. 
Integrating NCQA Standards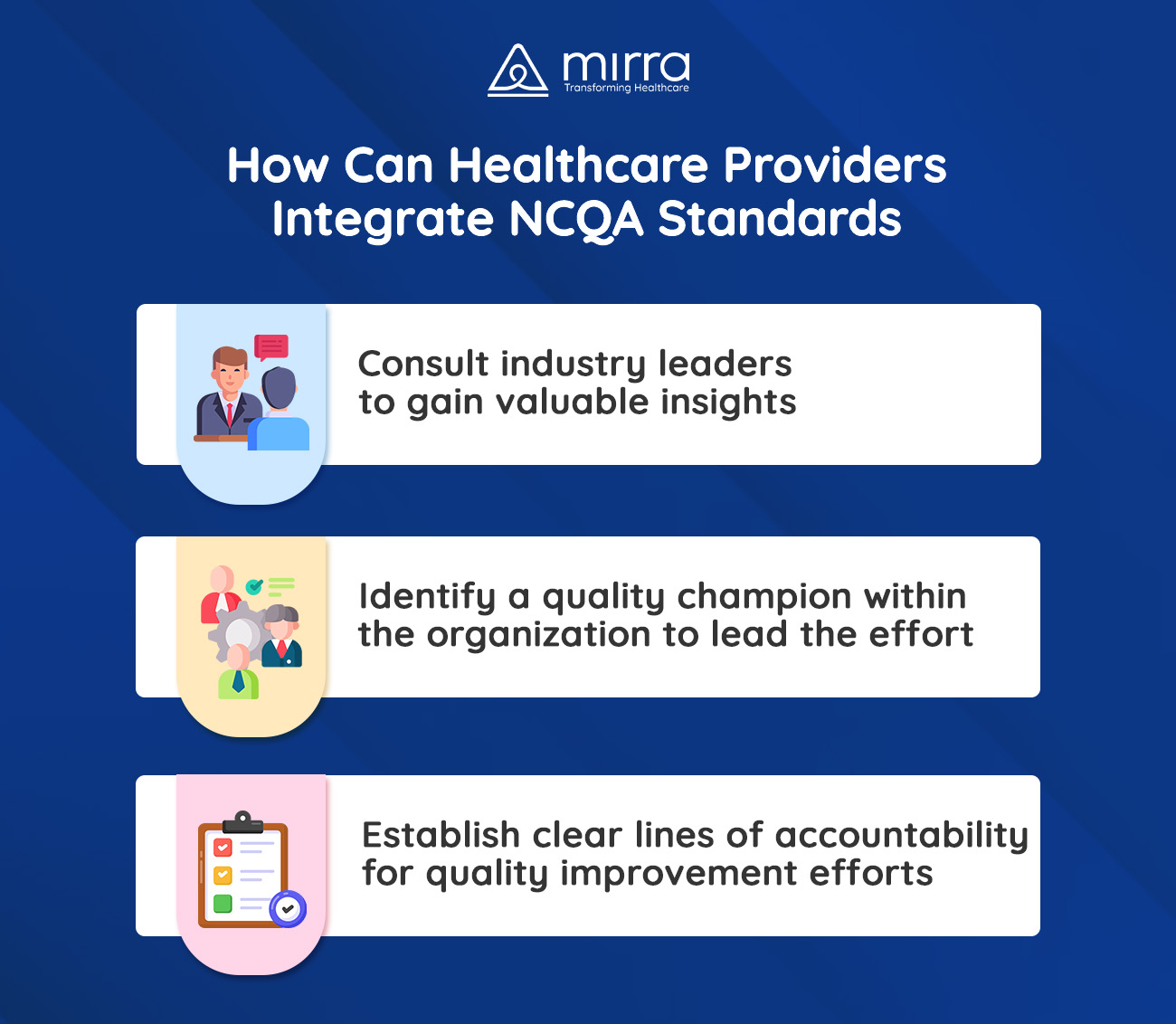 Successful integration of NCQA standards can be achieved through the following ways:  
Consultation with Industry Leaders 
One of the keys to the successful integration of NCQA Standards is consultation with industry leaders. By consulting with industry leaders, healthcare providers can gain valuable insights into how to adapt the NCQA Standards to their own unique needs.  
Industry leaders can guide everything from the selection of performance measures to the development of patient-centered care processes. They can also offer advice on how to create a culture of quality within the organization and engage both patients and staff in continuous improvement. 
Identifying a Quality Champion 
Another important step in integrating NCQA Standards is identifying a quality champion within the organization. This individual should be passionate about improving healthcare quality and have the skills and knowledge to lead the effort.  
The quality champion should be able to implement changes and motivate staff to participate in quality improvement initiatives. They should also be able to communicate effectively with patients and families to ensure that their needs are being met. 
Accountability and Consistency in NCQA Standards 
Finally, accountability and consistency are critical to successfully integrating NCQA Standards. Healthcare providers must establish clear lines of accountability for quality improvement efforts and ensure all staff members are held to the same high standards.  
Consistency in applying the NCQA Standards is also essential to ensuring that all patients receive the same level of high-quality care. Healthcare providers must ensure that policies and procedures are in place to ensure the standards are being applied consistently across all aspects of the organization.  
By consulting with industry leaders, identifying a quality champion, and establishing accountability and consistency in applying NCQA Standards, healthcare providers can successfully integrate these standards into their organization and improve the quality of care for senior patients. 
Addressing Compliance Gaps 
Ensuring compliance with NCQA Standards is crucial for achieving high-quality healthcare outcomes for seniors. Compliance gaps can arise for various reasons, such as a lack of resources, inefficient processes, and inadequate training. However, it is essential to identify and address these gaps promptly to ensure that the quality of care is not compromised.  
Assessing Compliance Gaps 
The first step in addressing compliance gaps is to identify them. This can be done by thoroughly reviewing the organization's processes and procedures to ensure they align with NCQA Standards. The review should cover all aspects of healthcare delivery, from appointment scheduling to follow-up care. By assessing compliance gaps, organizations can identify areas of improvement and take corrective action to ensure that they meet NCQA Standards. 
Read more about the challenges and opportunities of MRA compliance 
NCQA Readiness Assessment 
To assess compliance with NCQA Standards, healthcare organizations can use the NCQA Readiness Assessment tool. This tool evaluates an organization's readiness to meet NCQA Standards and provides a comprehensive report highlighting areas of non-compliance. The report includes recommendations for corrective action, which can help organizations address compliance gaps and prepare for NCQA Accreditation. 
Working with Independent Consultants 
In addition to the NCQA Readiness Assessment tool, organizations can also seek the help of independent consultants. These consultants can conduct an in-depth review of the organization's processes and procedures, identify compliance gaps, and provide recommendations for corrective action. By working with independent consultants, organizations can ensure that they are taking a comprehensive approach to compliance and are prepared for NCQA Accreditation. 
Benefits of NCQA Accreditation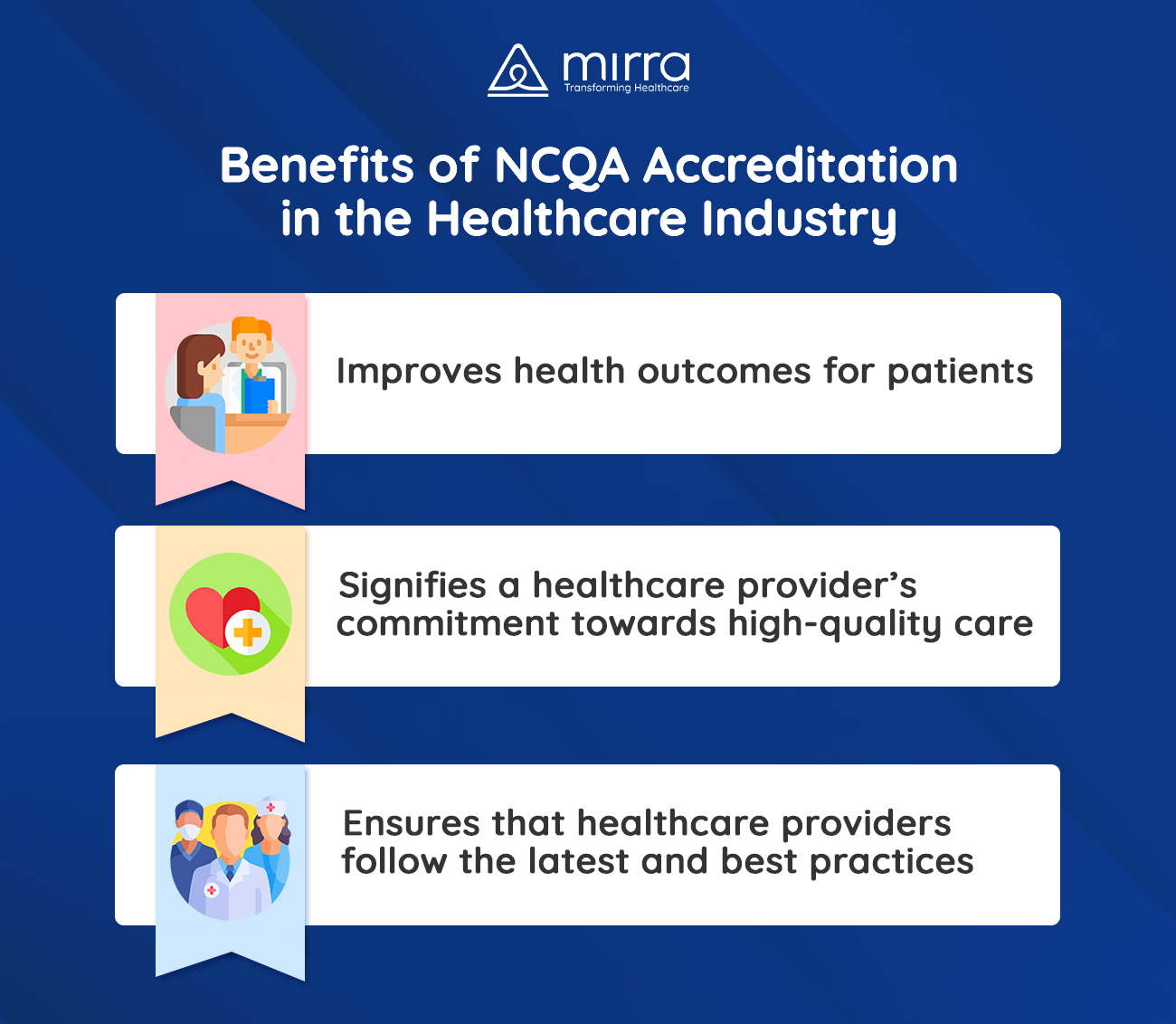 NCQA Accreditation is the gold standard in the healthcare industry. It measures the quality of care healthcare organizations provide and evaluates them based on rigorous quality standards.   
Achieving NCQA Accreditation can benefit healthcare providers and their patients in many ways, especially senior patients more vulnerable to health complications. Here are some of the benefits of NCQA Accreditation for senior healthcare:
Improved Health Outcomes 
NCQA Accreditation standards are designed to improve the health outcomes of patients. By complying with these standards, healthcare providers can improve patient outcomes by reducing the incidence of hospital readmissions, complications, and adverse events. This is especially crucial for senior patients who are more prone to chronic illnesses and require more specialized care.
Commitment to High-Quality Healthcare 
NCQA Accreditation is a badge of honor that signifies a healthcare provider's commitment to delivering high-quality care. Accreditation demonstrates that the healthcare organization provides safe, effective, and patient-centered care. Senior patients, their families, and caregivers can trust that their healthcare provider is committed to delivering the best possible care. 
Read more about the 5 Pillars of Care Management here
Evidence-Based Best Practices 
NCQA Accreditation standards are based on evidence-based best practices that have been proven to be effective in improving patient outcomes. Compliance with these standards ensures that healthcare providers follow the latest and best practices. This can improve health outcomes for senior patients who require more specialized care.
The Bottom Line 
Achieving NCQA Accreditation can benefit healthcare providers and their senior patients. It demonstrates a commitment to providing high-quality care and following evidence-based best practices that can result in improved health outcomes. Senior patients, their families, and caregivers can trust that their healthcare provider is dedicated to delivering the best possible care.  
The NCQA accreditation process ensures that the organization meets the highest quality, safety, and efficiency standards in healthcare delivery. Mirra Healthcare's commitment to providing high-quality Medicare Advantage solutions to its NCQA-accredited partners is exemplary.   
Contact us today to avail yourself of our one-of-a-kind Medicare in a Box solution.