The claims adjudication process is a complex but integral aspect of healthcare administration which involves multiple stakeholders, including healthcare providers, insurance companies, and patients. Even the slightest error during this process can cause claims to be rejected or denied, resulting in delayed payments and loss of revenue for providers. In this blog, we'll delve into the complexities of claims adjudication, explore its key components, and look into solutions that can make this process more efficient.
What is Claims Adjudication? 
It is the process of evaluating and processing claims submitted by healthcare providers to health plans for payment. It requires a thorough understanding of healthcare billing codes, policy specifications, and patient information to ensure accuracy and compliance with regulatory guidelines. 
In the adjudication process, health plans and other payers review healthcare claims submitted by providers and determine whether to pay the claim in full, pay partially, or deny the claim altogether.  
To ensure that a claim is reimbursed, it must meet certain criteria. It is the responsibility of healthcare providers to verify a patient's enrollment and coverage status and determine whether referrals or prior authorizations are required before providing care. Failure to do so can lead to delays in processing and loss of revenue for providers. 
3 Ways to Navigate the Claims Process Efficiently
Verify Patient Eligibility  
Before providing any medical services or treatments, it is essential to confirm that the patient has valid insurance coverage and that the services provided are eligible for reimbursement. This is important to prevent potential denials or delays in the claims process that can lead to financial losses for both the provider and the patient. 
To verify patient eligibility, healthcare providers can use the health plan's portal to gather accurate and up-to-date information about the patient's insurance coverage. This may involve checking the patient's insurance card or contacting the insurance company directly to confirm coverage details. It is important to verify not only the type of insurance but also the patient's specific benefits, such as deductibles, copays, and coverage limits, as these can vary depending on the plan. 
Submit Clean Claims  
A claim is considered clean when it is submitted within a specified timeframe and contains all  necessary information required by the health plan for reimbursement. To submit clean claims, healthcare providers must ensure that all patient information is accurate and complete. This includes verifying the patient's name, date of birth, insurance information, and other relevant details. It also involves attaching any necessary documentation, such as medical records, lab results, or referral forms. It is important to make sure that all the documents submitted are legible, up-to-date, and relevant to the services provided. 
In order to avoid claim denials or delays, healthcare providers must submit clean claims on the first attempt as any errors in patient information may require additional administrative efforts to correct.  
Monitor Claim Status 
Monitoring the status of claims and following up with health plan regularly is a crucial step in the claims process. This helps providers identify any issues or delays and address them in a timely manner to prevent them from negatively affecting revenue and patient care. 
Claims may be delayed or denied for various reasons, including errors in patient information or coding, missing documentation, or issues with insurance coverage. By monitoring the status of claims and following up with health plan regularly, healthcare providers can ensure that claims are processed on time. This involves checking the status of claims and tracking any denials or delays in payment. It also involves contacting health plans to follow up on any outstanding claims and resolving any discrepancies as soon as possible.  
  
Additionally, it is important to ensure that staff members are familiar with common errors that can occur during the claims process. They should be trained accordingly to identify these errors so as to avoid submitting inaccurate or incomplete claims. 
Read more: 5 Solutions To Bring Down Your Claims Denial Rate 
According to an estimate, almost 20% of all claims are denied, and a significant percentage of returned claims are never resubmitted. Given the high rate of denial, it is important for healthcare providers to adopt certain tools and technology to eliminate the risk of claim denial. Utilizing electronic tools or claims management software can help streamline processes and improve efficiency.  
5 Benefits of Utilizing Technology for Claims Adjudication Process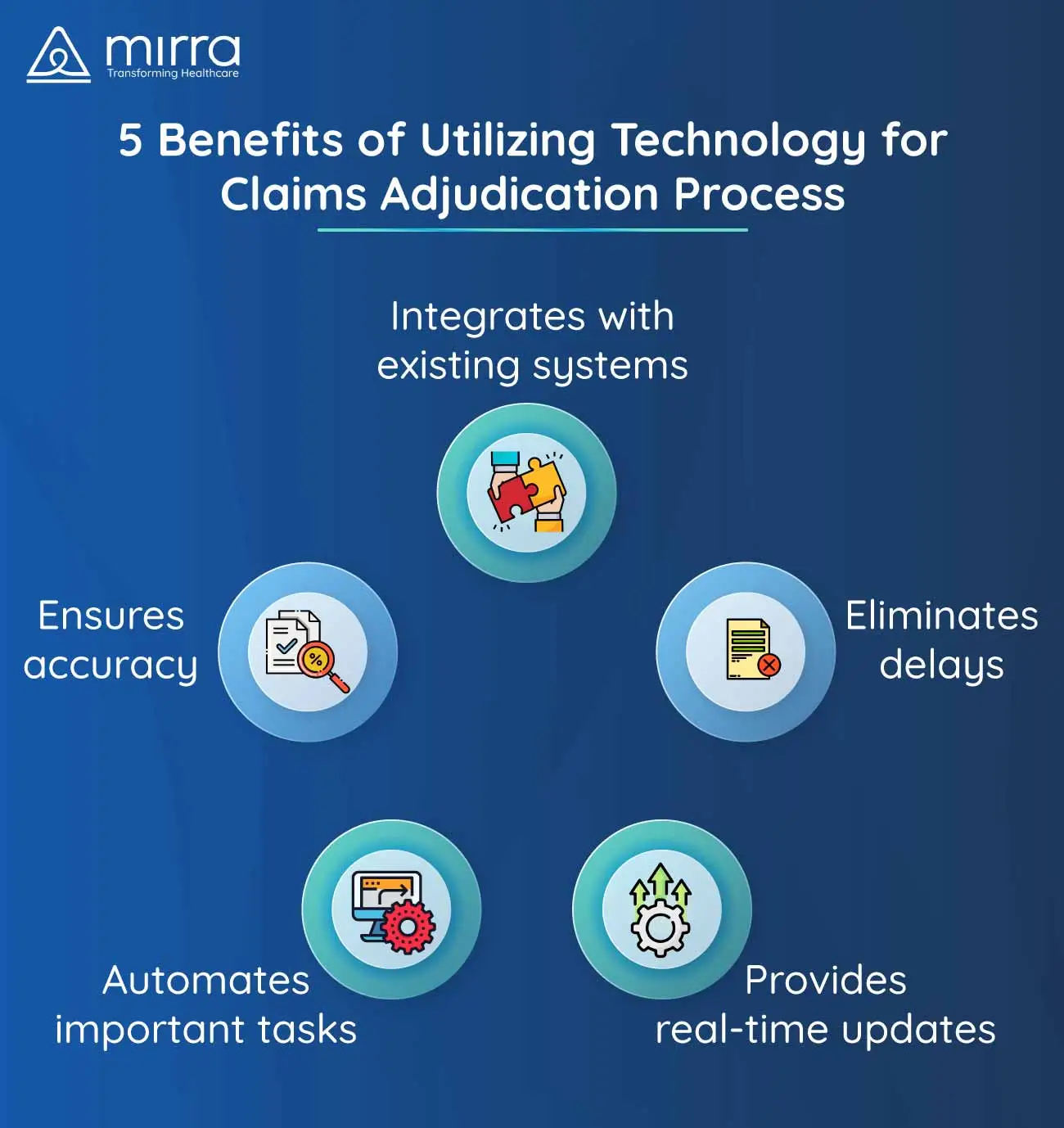 Advanced electronic tools can help make the claims process more efficient in several ways: 
Automates tasks like claims submission, claims follow-up and claims tracking.

 

Ensures that patient information is accurate

 

Eliminates delays associated with paper-based claims submission

 

Provides updates in real-time for the status of claims

 

Integrates easily with billing and scheduling systems.

 
Overall, the use of technology can aid healthcare providers in improving their bottom line by decreasing administrative costs, increasing revenue, and ultimately enhancing patient outcomes.  
Why Choose Mirra Healthcare's Claims Adjudication Solution? 
Mirra Healthcare's technological solution for claims processing is ideal for various types of plans including HMO, PPO, dental, vision, etc. Their high adjudication rate can improve the quality of claims processing and offer other benefits, such as the following: 
Acts as an all-in-one payment reimbursement system

 

Translates paper claims into digital records

 

Accepts electronic claims from provider's clearing house

 

Reduces errors by eliminating manual intervention

 

Processes different benefit types with flexible configuration

 

Integrates easily with third-party gateways

 

Improves turnaround time for providers

 

Reduces administrative costs for pending claims

 

Generates letters for explanation of benefits and payments

 
Visit Mirra Healthcare's website to explore their Medicare in a Box solution and claims adjudication service and learn how it can help enhance patient care and boost the financial health of your medical practice. Contact us for more information.